I fell in love with some stones that I found in my holiday in Greece and I turned them into my canvas.
Did you know that the marble that you find in Thassos island, is the whitest in the world? Neither did I till this summer, but now I am glad I found it.
My doodles would not be the same without it, nor the pieces for the tic-tac-toe that we have played on the beach.
It was the first time I used stone as canvas when doodling, and I have no idea why it took me so long to discover it. Now I have a great collection of painted stones, and a real interesting door stopper.
And I also have a lot of friends asking me to gift them one of my new type of drawings.
Let"s see how to do it! Reserve 15 minutes from your time to produce your first doodled stone!
My kid taught me to keep my drawing set on hand. Thank you for the good advice, kiddo!
I took my pens and started to draw on stones with smooth surfaces while sunbathing on the beach, in Greece. I used mostly a pen that draws a thin black line, but also green, blue, red, purple and orange sharpies. Once I got back home, I have finished the masterpieces by applying a coat of varnish, to protect the color from fading.
And here are the results of my drawing days on the beach!
Tips for Doodling on Stone
Let your imagination fly, and use the nature around you for inspiration – draw flowers, plants, swirls, algae, waves or sea creatures. Does the stone that you found have a strange appearance? Turn it into the creatures that the stone suggests, as I did with the blue bus you can see in a picture above.
Do you wonder if things can go wrong? Of course they can, this is why I will just leave some advice below:
If the lines are not sharp enough or are far from being straight, you can wipe them out with a cotton pad and alcohol or nail polish remover, then draw them again. Or you could make them all look the same, and pretend that you have a naive style drawing.
Use stones that have a shiny look, as they are easier to draw on using regular sharpies. The porous stones absorb color and make the line look thick and bulky, so you need a thinner pen for them.
And here are my projects: a door stopper that has the size of a dinosaur egg, and has been made out of the white marble that you could only find in the Greek island of Thassos.
Here are some other marine patterns – the algae and the sea stars, on white and grey marble.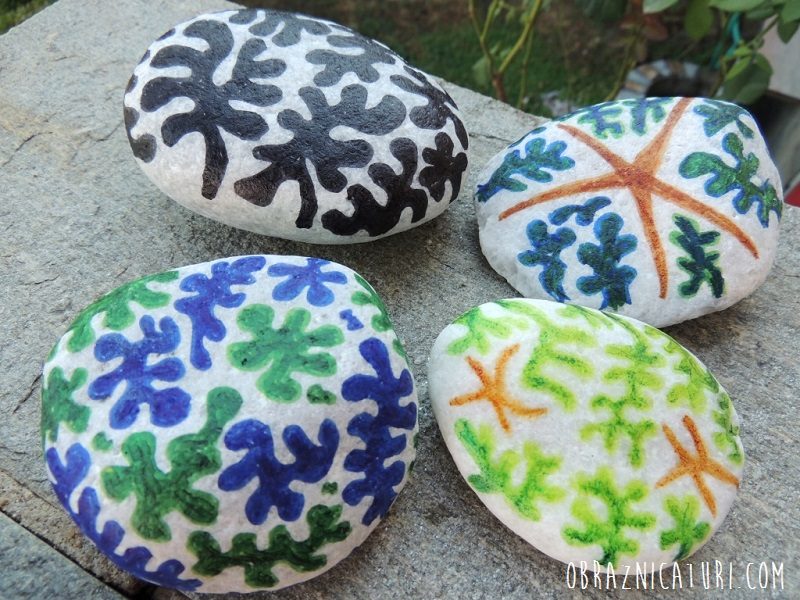 And a few more Greek memories – the olive trees, and the wild berries that grow near the dusty roads of Thassos.
A small part of Greece lies in the stones that I have drawn on. And every time I look at them, I feel the warm wind from Thassos on my cheeks, and the waves of a turquoise water on my feet. Sweet memories of summer to remind during the autumn that is about to come…
Do you like what you're reading? Subscribe for more!
[mc4wp_form id="604″]
The Later Effect
Back home, I could not stop thinking about these drawings. New patterns came to my mind…

All my friends have been gifted with these souvenirs, in different colors. Oh, somebody has to stop me from doodling, because I cant…
Do you like this project? Would you try to draw on rocks by yourself? Ask your questions and share your thoughts in the comment form below!